Martin with a huge tomato and chayotes
Here is a photo of Martin's culinary restaurant in Carvoeiro which he runs with his family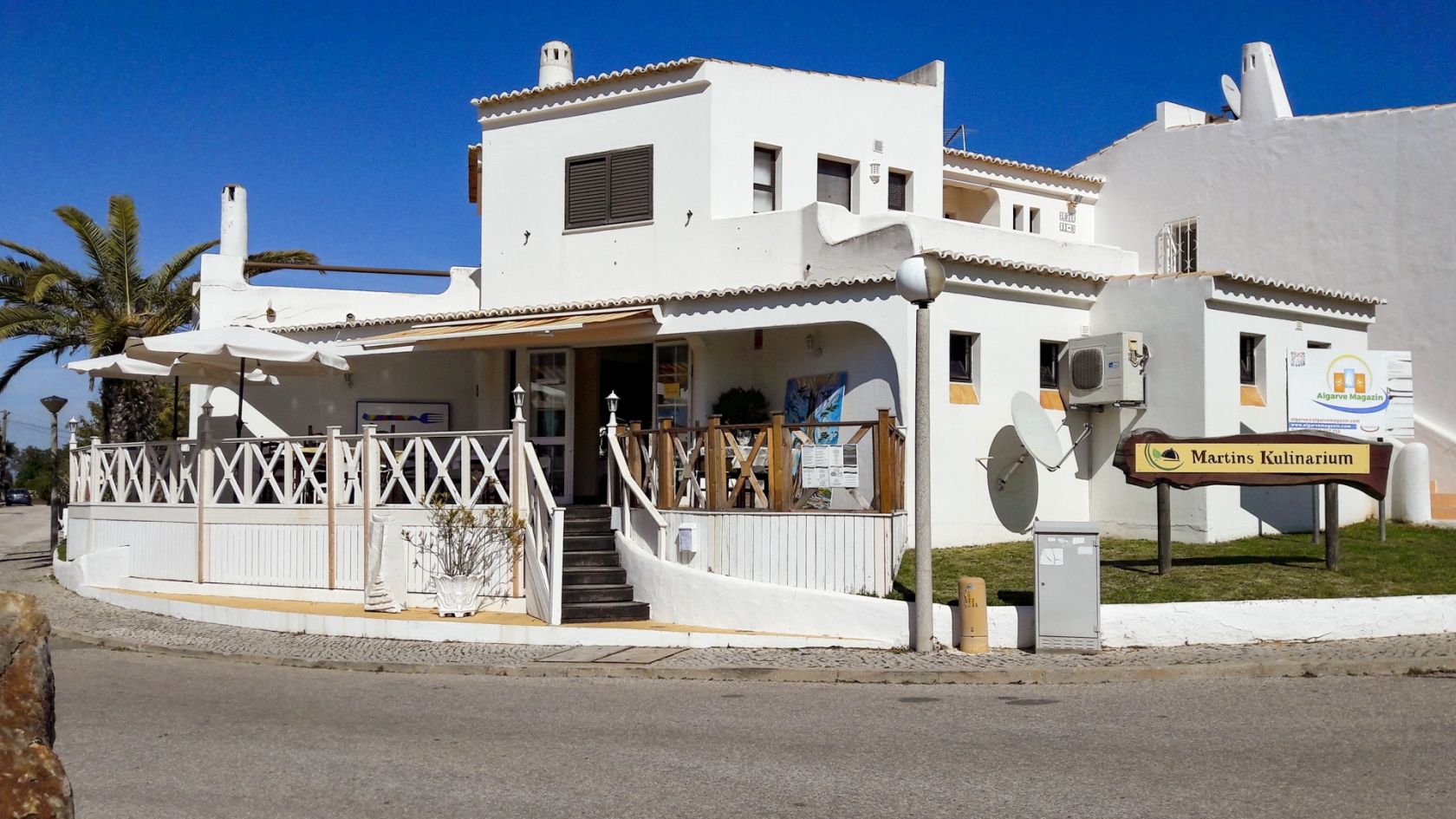 "The menu included various fish delicacies, vegetables, roasted lamb shoulder and dips. After a successful shop we went to the cooking school in Carvoeiro. Our classmates were: Gabi from Lagos, Dieter - the undisputed truffle and mushroom master from Germany www.trueffelschule.de currently in Portimão, Uli from Carvoeiro/Sesmarias, Sven a German tourist, Jens from Messines and Frans from Holland - currently in Carvoeiro.
Our chef with the participants
"One of the participants came with her beautiful, young 'Boerboel' dog called Bärbel (see photo below) Her owner always takes her everywhere, but in this case, sadly for her - she had to wait outside in the courtyard!
Bärbel
"We unpacked all of our ingredients and before we began, we enjoyed a wonderful energiser with delicious sausage, cheese, bread and drinks - then we were ready for the programme!
"We commenced with various dips and garlic oil which consisted of olive oil and a lot of peeled cloves of garlic (depending on your taste), which were crushed and mashed.
Dip No. 1 Humus
"Into a bowl we added: chickpeas, mild chilis, a handful of plucked rosemary and 3 cloves of garlic, 5 teaspoons of sugar or 2 tablespoons of honey (depending on taste), two pinches of fine salt, a handful of freshly picked parsley or spring onions. Filled with olive oil until all the ingredients were covered. Then we used a hand blender so that a homogeneous paste was obtained and left to rest for half an hour. Very simple to make and tastes incredibly good with bread, vegetables, meat and fish.


Dip No. 2 with Cheese
"Crushed Feta cheese, garlic oil, spring onions and parsley are mashed and pureed with cream and ready! An absolute dream dip. My favourite!


Dip No. 3 with Tomatoes
"Dried tomato base is pureed with garlic oil, other oil, rosemary, salt and pepper. Again, very simple and tastes great with everything.
"After our cornbread with dips we then focused on the lamb shoulder, cooked with pepper, salt, garlic, lots of bay leaf (laurel), white wine, onions and carrots (see photo) cooked for 2.5 hours in the oven at 200º C top and bottom heat.
Lamb shoulder
Smoked Catshark (Pata-roxa)
"The skin was removed from the catshark and cut into bite-sized pieces, then smoked for half an hour in a casserole with a bay leaf sprig, smoked flour (nutshells can also be used), see photo - and it tastes great on fresh bread as an appetizer.
Catshark
"Next was a Portuguese fish cataplana, filled with a little water, wine, optional fish stock (for a stronger fish flavour), onions, tomatoes and peppers which were cut into strips, pepper & salt, garlic, stingrays (or ray) and red king prawns cooked for 30 minutes on the hob, or in the oven on a low flame, just like cooking in a clay pot. But you can also use a chrome pot for induction heat. The French variant is the bouillabaisse. Then…. Bom Apetíte!
Portuguese Fish Cataplana
"For the next fish dish, sliced pumpkin, olive oil, orange juice, fine salt and black pepper, juice of a whole lemon, dried plums, spring onions, garlic and lemon slices and a chayote from the squash family are cut into thin slices and layered, the gutted and folded fish, Mullet, is placed on top (in Portuguese Tainha), then covered and steamed at 180º C with circulating air in the oven for about 30 minutes, see photo. What a combination! A light and delicious fish dish.
Mullet
"Now we come to the okra, a delicious vegetable from the mallow family. The okras, please see photo, must first be pierced so that they remain juicy. The ends are cut off. They are cooked and then steamed in a wok with oil, spring onions, chilli, salt, pepper, garlic oil, tomato pieces and a little lemon. Tastes heavenly, a super vegetarian dish.
Okra

"Finally at last, an absolute highlight of the fish cuisine: tuna in sesame coating fried in a little olive oil in a pan, no other spices necessary. Roasted semi-rare or medium served on strips of pumpkin with black olive halves, a feast for the taste buds!

Tuna in Sesame - Preparation and Final Dish
Then the best came! Tasting in a relaxed, nice group and atmosphere.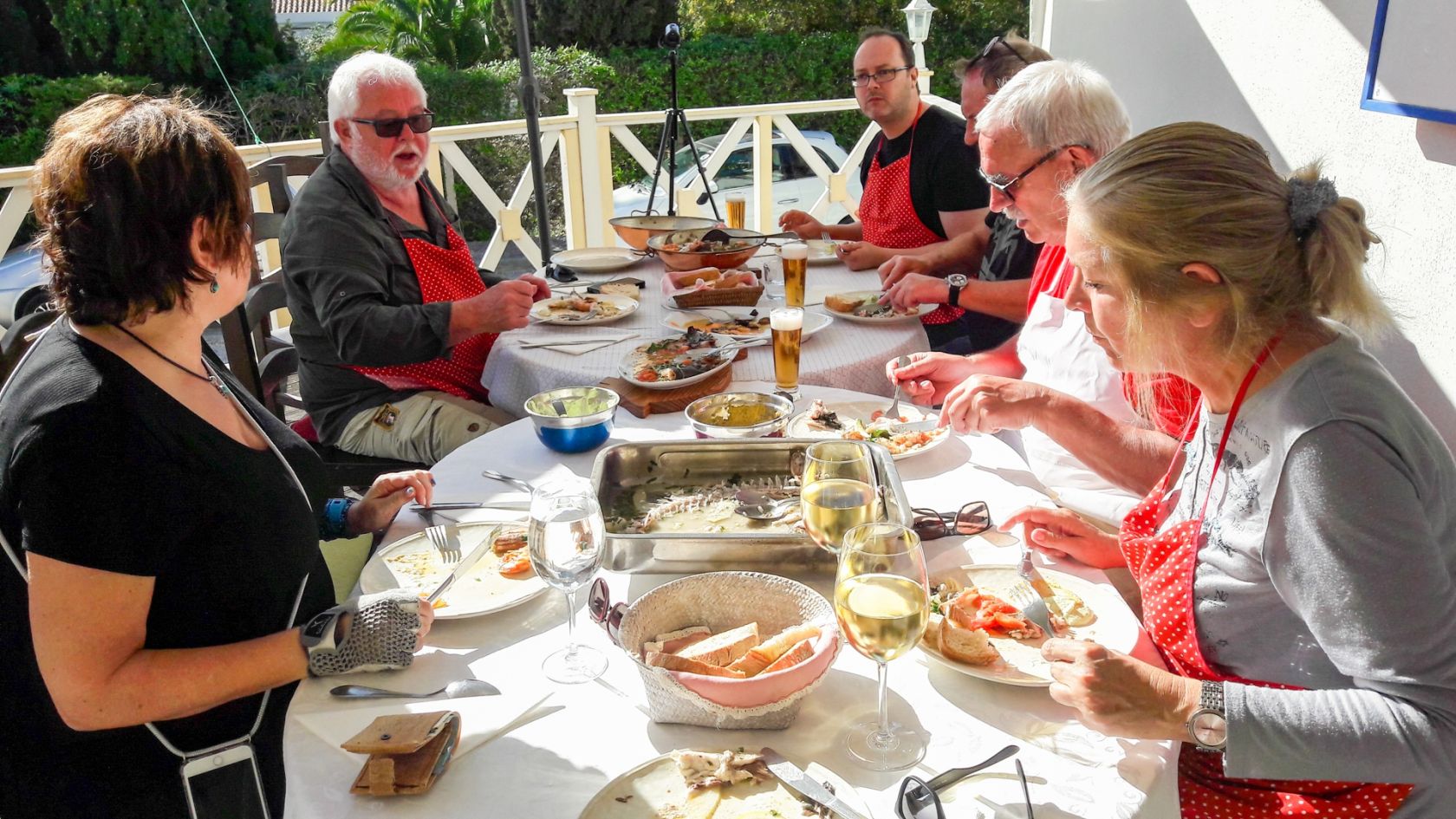 "We, at Togofor-Homes Real Estate were thrilled with this cooking class in Martin's culinary school. A great day in a nice group atmosphere, with the best, fresh ingredients from the market. Are you interested?"

Contact Martin Busse:
restaurant@martins-kulinarium.com | Martin Busse martins.kulinarium@gmail.com
https://www.martins-kulinarium.com

You can book hikes in the Algarve or truffle and mushroom hunting and events, enjoy the fabulous food in his restaurant with art exhibitions and of course cook together.
Cooking courses are offered in German, English and also Portuguese. Martin's famous cookbooks can also be ordered and downloaded online. Check out the range!

Susanna Gross
Sales & Marketing Manager