Expats have been moving to the Algarve for many years. The attractions of the weather, picturesque beaches, first class seafood and slower pace of life, make this an obvious choice, particularly for those looking to retire in Portugal. But there are growing numbers now moving to Portugal, to work, start a business and raise a family, Portugal is consistently considered to be one of the safest countries to reside, in the world. The Algarve climate and beautiful scenery allows residents to enjoy an al fresco lifestyle. The Algarve is a mixture of traditional and modern - from cosmopolitan towns and cities to typical Portuguese villages with whitewashed cottages and fishing boats and you don't need to travel far to see all these aspects of the Algarve region.
To live in the Algarve permanently be prepared for some degree of culture shock. Many new Algarve residents often imagine that in their Algarve life, things will run the same way as 'back home', this is not the case. Moving permanently abroad is not to be taken lightly, but if you go in with an open mind and an open heart you will not regret it. What the Algarve lacks in one area it more than compensates for in others. Make sure you think about all the following factors when and where you choose your Algarve home.
The People
PRO: The Portuguese are warm, friendly and incredibly helpful. There are thousands of foreigners who live in the Algarve and those who try to integrate with their local communities are made very welcome.
CON: The Portuguese cannot be rushed, do not expect everything to be done immediately.
Algarve Weather
PRO: Portugal's climate and the Algarve weather are warm, dry and sunny for most of the year.
CON:Winters can be cold at night, damp and when it does rain – IT RAINS!
Algarve Beaches
PRO: From East to West the Algarve has many exceptional, award-winning beaches.
CON:Algarve Beaches in July and August are crowded.
Portuguese
Many Portuguese speak some English, it's taught in schools as a second language. In the more popular tourist areas, many are fluent in multiple languages.
In more remote areas and smaller towns, Portuguese may be the only spoken language, so you will need to learn the basics to get by. The Portuguese language can be difficult to learn, but there are many courses that are available. If you can't find one in your area – dive right in and have a go, the Portuguese will appreciate any attempt, no matter how poorly it's pronounced!
Driving in Portugal
Driving in Portugal can take some getting used to, not least for those expats used to the 'left side of the road'. But once you know your way around, travelling and discovering the Algarve can be pleasurable. Make sure to check the regulations regarding your driving licence and if you need to make any changes to your documentation and/or vehicle. Fines and penalties can be very costly.
PRO: The traffic tends to be lighter than elsewhere. Expats will find that getting around the region is straightforward and inexpensive. Buses and trains (where available) are regular and punctual.
CON: Driving can be dangerous, Portuguese drivers can be impatient and drive fast.
PRO: Portugal has good road networks; however, the Algarve will be congested in the Summer.
CON: National motorways are toll roads, they are excellent, but road tolls can add up.
The Cost of Algarve Living
Overall, expats who are not dependent on finding local employment will find that the Algarve is very reasonable. The cost of living in the Algarve is at present still lower than many other European destinations, the Algarve has much to offer those seeking a new life in the sun. Ask the locals – they have a great nose for quality and bargains and will gladly point you in the right direction. Prices in the Algarve can fluctuate during the peak holiday season, availability of foreign consumables and items can be much costlier than their Portuguese counterparts, (or not be available at all), however there are many large supermarket and European business chains now in the Algarve.
Algarve Education & Healthcare
There are top-class private hospitals and International schools scattered around the Algarve, and state options exist too. Whether or not an expat qualifies for these facilities depends on their personal situation and where they are moving from, so thorough research is always required.
Private hospitals, doctors and schools may be a distance to travel in more remote areas, so bear this in mind. Whilst the quality of private facilities is high, the waiting list for an appointment or place can be long – almost as much as state run facilities.
Work and Starting a Business
Expats moving to the Algarve to work, should be cautioned that many jobs in the Algarve are seasonal, (dependent on tourism) and if one does not speak Portuguese, the chances of finding fulltime employment is much more difficult. If you have a business or investment plan in place and have done the research, then with hard work and patience you can be successful. Getting started can be a minefield of confusing, foreign paperwork with some cost, so seek professional advice, to make sure you are following all tax and legal regulations.
Portugal Citizenship & Residency
Since Brexit, there has been a sharp increase in the number of people interested in obtaining Portuguese citizenship (prior to this, most British people hadn't really considered applying for another citizenship) so you may find that this has affected the length of time the process takes. The red tape of bureaucracy can be frustrating at times however, if you plan to live in Portugal, it could be worth pursuing.
The most common way to obtain citizenship in any country is to live there for long enough. In Portugal, that length of time is 6 years. You can apply for permanent residence after 5 years and, although it's not quite the same as citizenship, that's good enough for most people.
If you're not an EU citizen, the biggest challenge will be staying in Portugal for 5-6 years. Portugal issues long-term visas for several different groups of people including students, volunteers, those with a job offer in Portugal, and those who have enough funds to support themselves (€50,000) or/as well as a passive income (including a pension).
The Golden Visa Scheme (Investing in Portugal)
Portugal is one of several European countries that offers a fully-valid residency permit to those who invest in Portugal. Investment can take many forms, such as creating a business and jobs, or it can be as simple as purchasing a property in Portugal. The Golden Visa scheme allows investors to stay in Portugal (and to travel within the Schengen Area) for 5 years. After 5 years, investors can obtain permanent Portuguese residency. After 6 years, investors can apply for Portuguese citizenship.
Anyone considering a permanent move to Portugal, from any country should carefully research and consult with experts in financial, tax, pension/retirement, legal and medical matters – Preparation is key. If you are already in Portugal and wishing to make your stay permanent, please consult with a Portuguese lawyer – ideally one that specialises in Portuguese citizenship law.
Purchasing your Algarve Home
Whatever your reason for deciding to move permanently to the Algarve; business, retirement or investment, Togofor Homes has a large portfolio of properties to offer you. Our experienced and friendly team will help you find your dream Algarve home or business opportunity and take you step-by-step through the process, give you guidance and advice. We work with many, experienced, legal and financial experts who we can recommend at any time. Visit one of our 3 Algarve offices – Lagos, Vilamoura or Tavira, and we will be happy to help.
Here are some of our recommendations:
A modern 3 +2 bedroom villa with pool and garage located in the popular west coast urbanisation of Vale da Telha.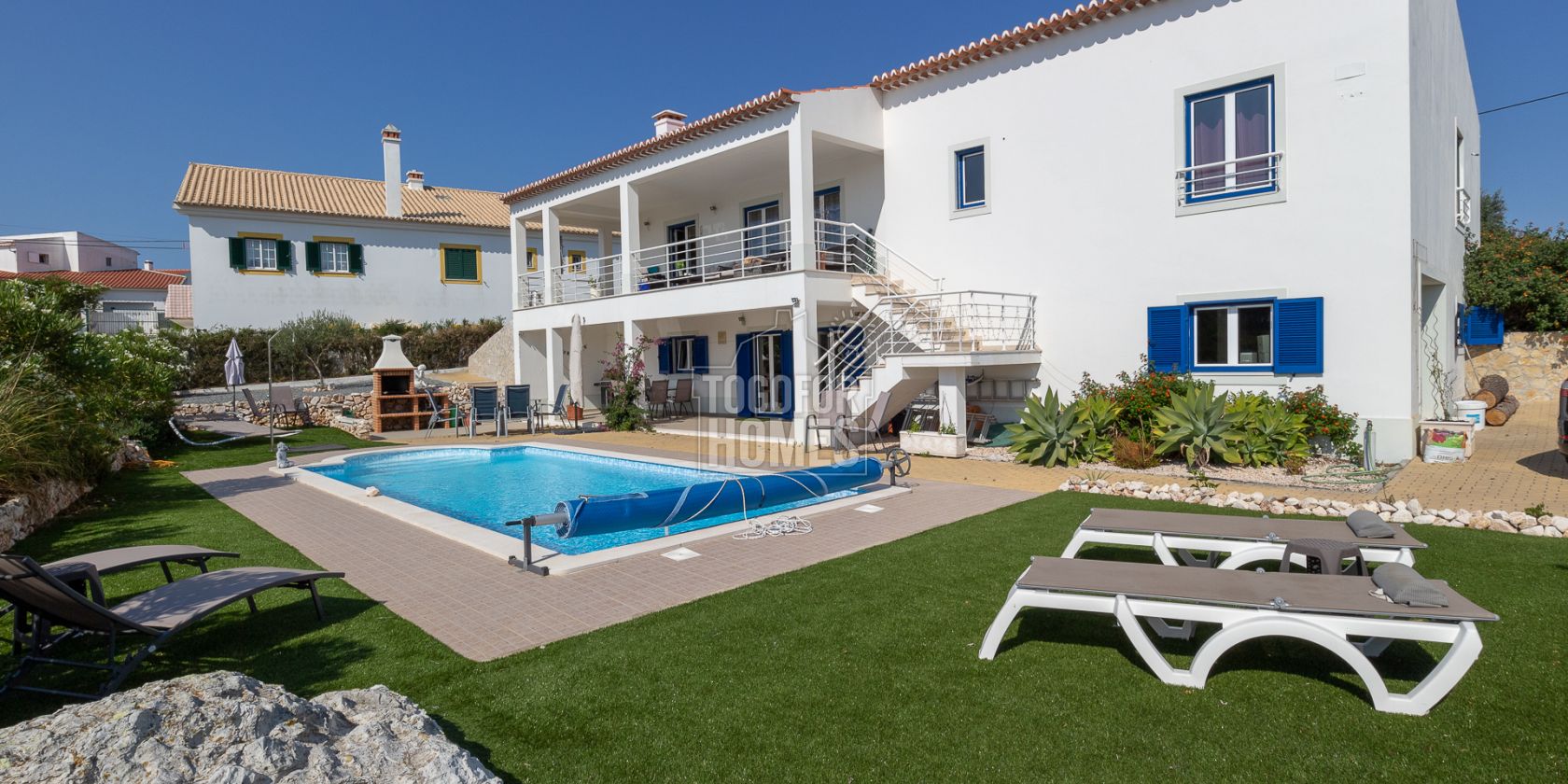 This private 2 bedroom country house, sits on a large plot of over 9 hectares within the South west Alentejano Natural Parque within walking distance of a beautiful west coast beach.
An amazing opportunity to purchase a high quality, timeless property in a fantastic location in Lagos with wide open sea views situated on an elevated plot of 29,240m², with 994m² of construction and 465m² of living area.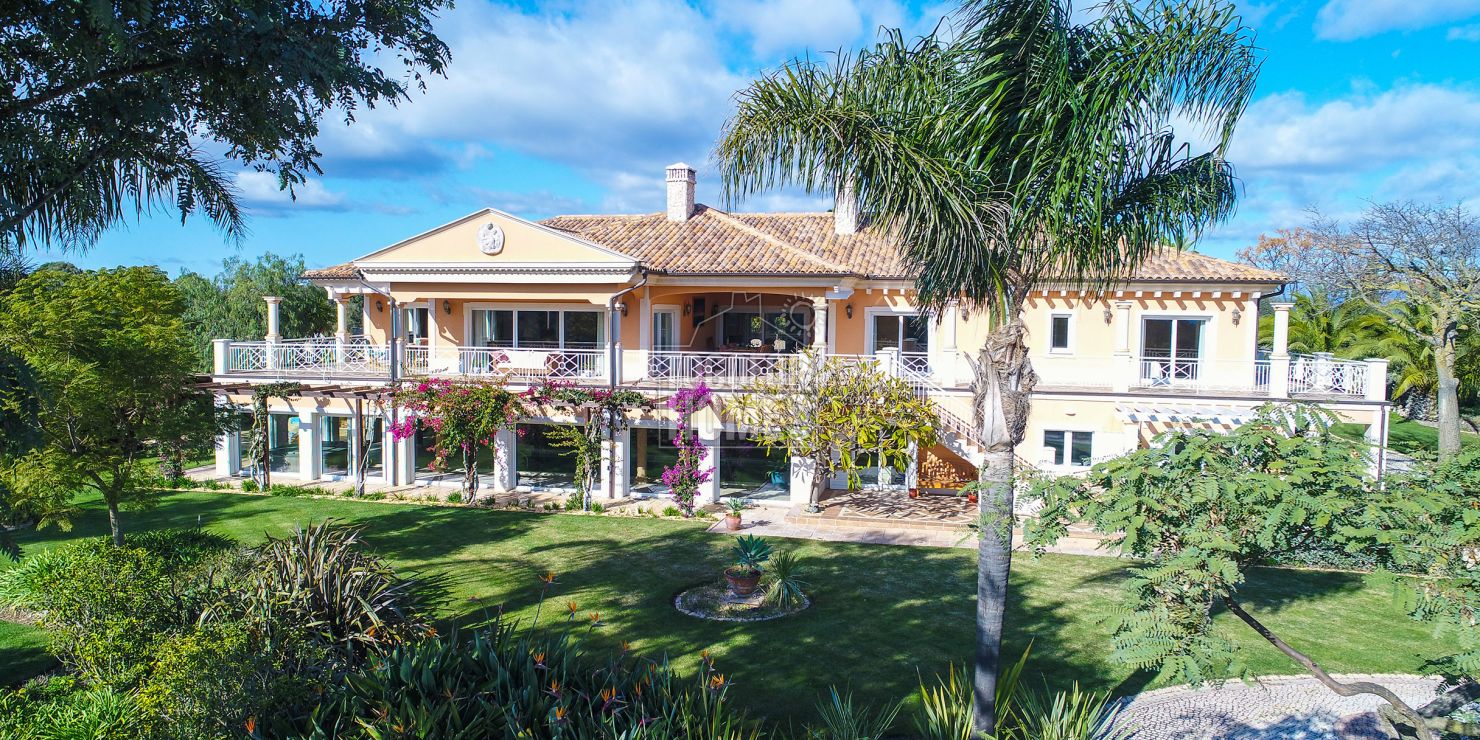 Magnificent luxury 4 bedroom villa constructed in 2010 and located in Alcalar, north of Alvor. The property is beautifully designed over 3 levels and situated in a private cul-de-sac.
This is a quite unique and intriguing house built on five levels and situated in a tranquil natural setting of cork oak forest, fruit trees, large flat fertile terraces and a river rich with wildlife. It is flooded with natural light through its many large picture windows looking out over stunning views of Foia mountain, the highest point in Algarve.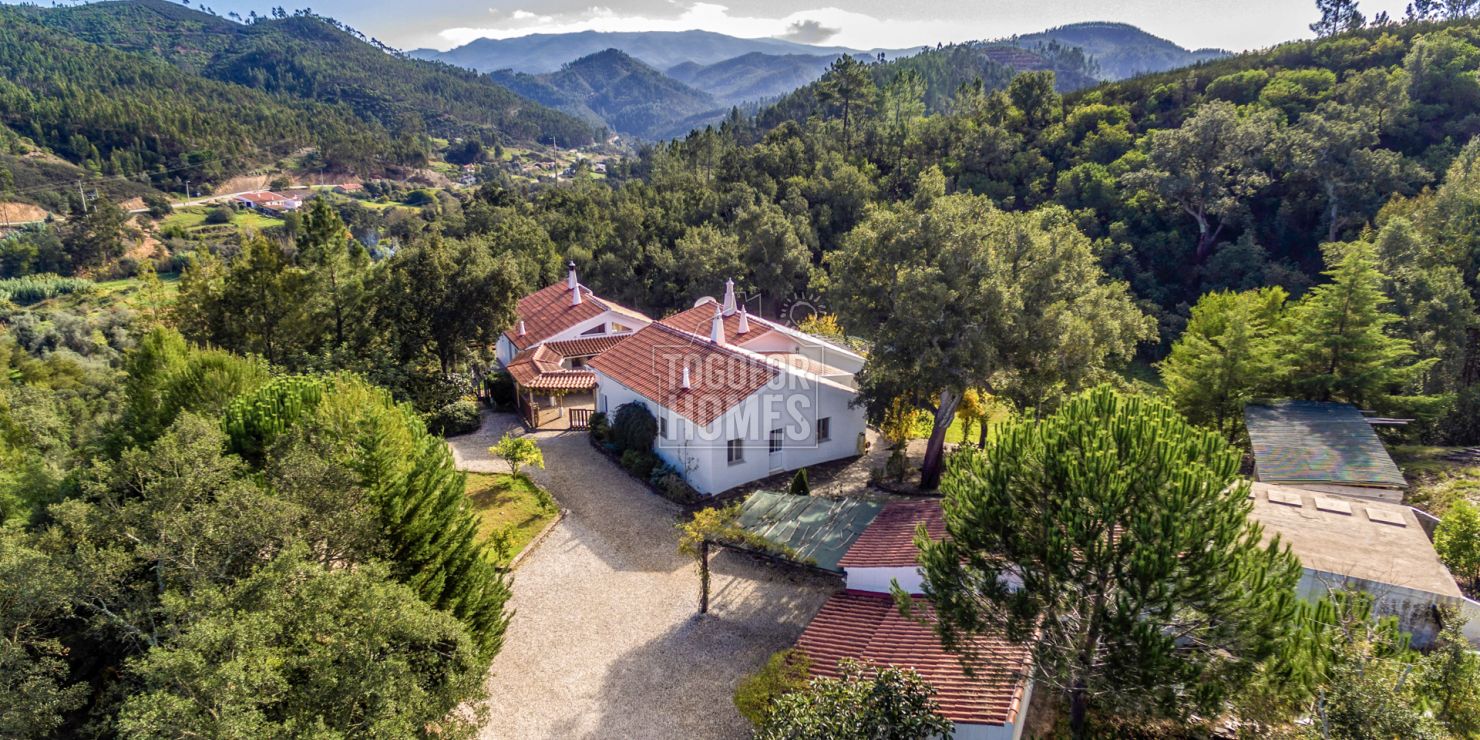 Spacious 3+1 bedroom villa with cascading infinity pool, large mature gardens with fruit trees. 80m borehole, underfloor heating and AC throughout. Adjoining plot of walled land suitable for horses, livestock or agricultural use.
This amazing 4 bedroom manor house is located only 500m from the beach and has wonderful sea views. Close to Carvoeiro, is has all amenities nearby, as well as golf courses.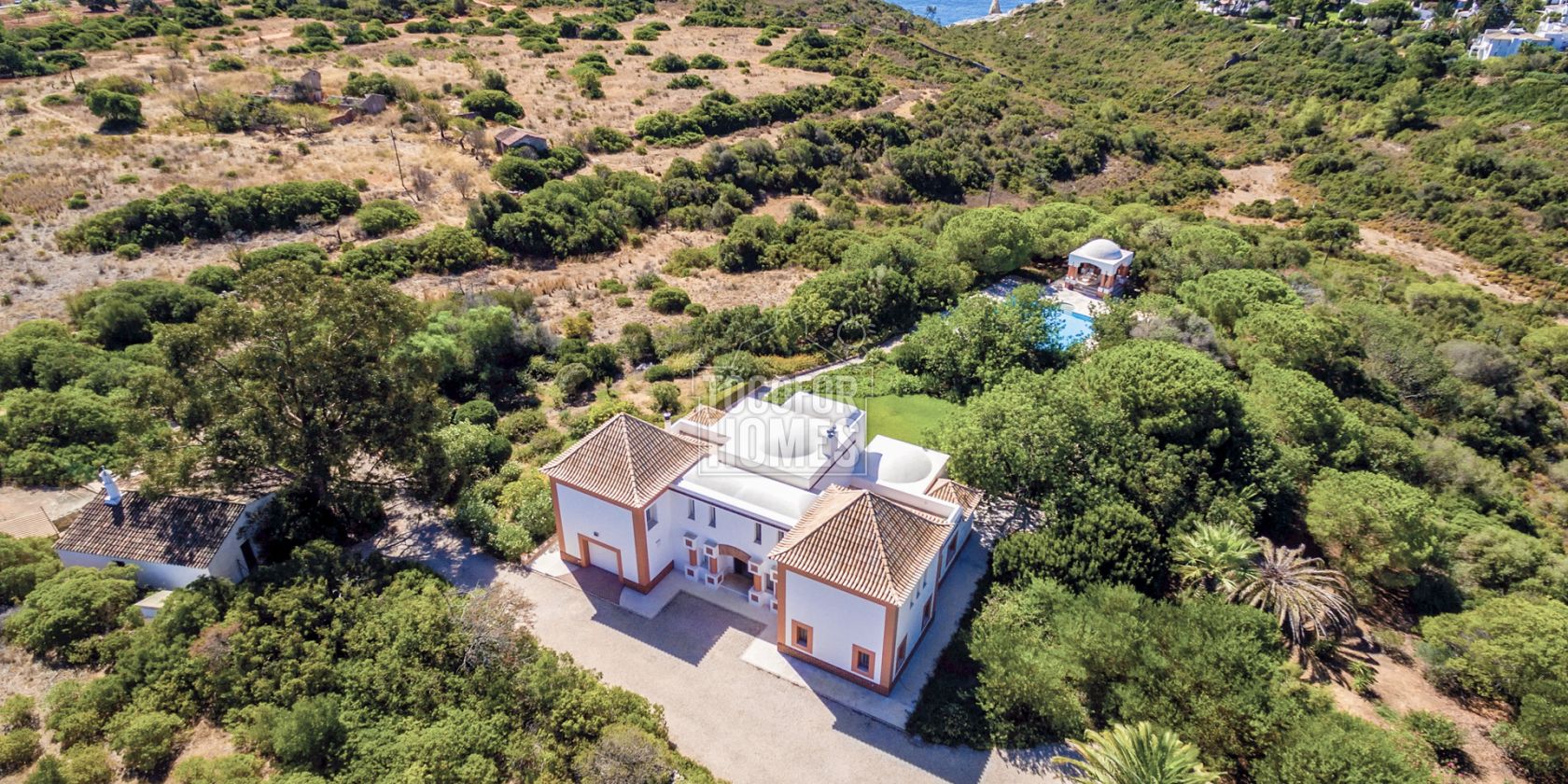 Only minutes from award winning beaches, championship golf courses and all amenities, this luxury 4-bedroom villa with en-suite bathrooms in Carvoeiro is beautifully designed and ideally situated in a quiet location.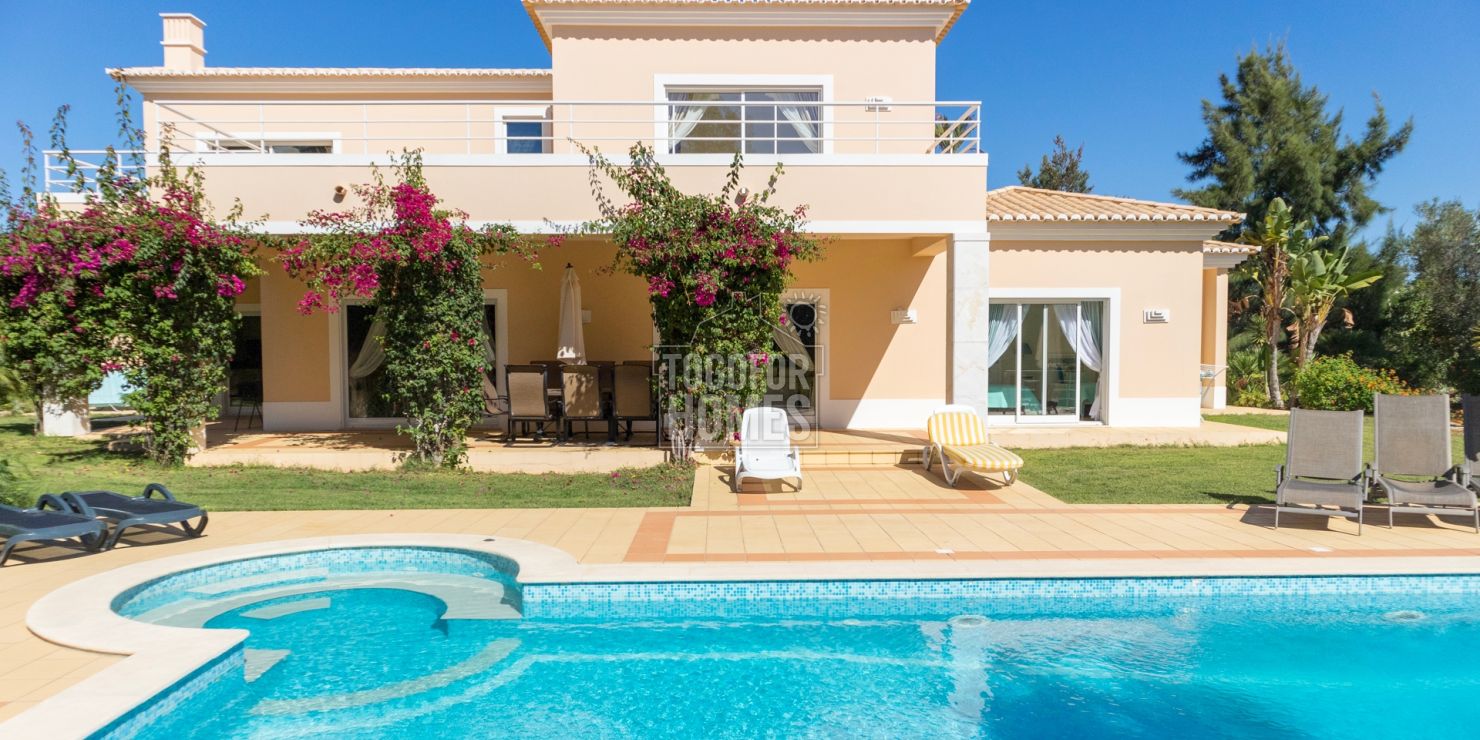 This contemporary villa, near Loulé, has many windows giving the property a sense of light and space. With open plan living and modern features this villa would make a perfect second home or for permanent living year round.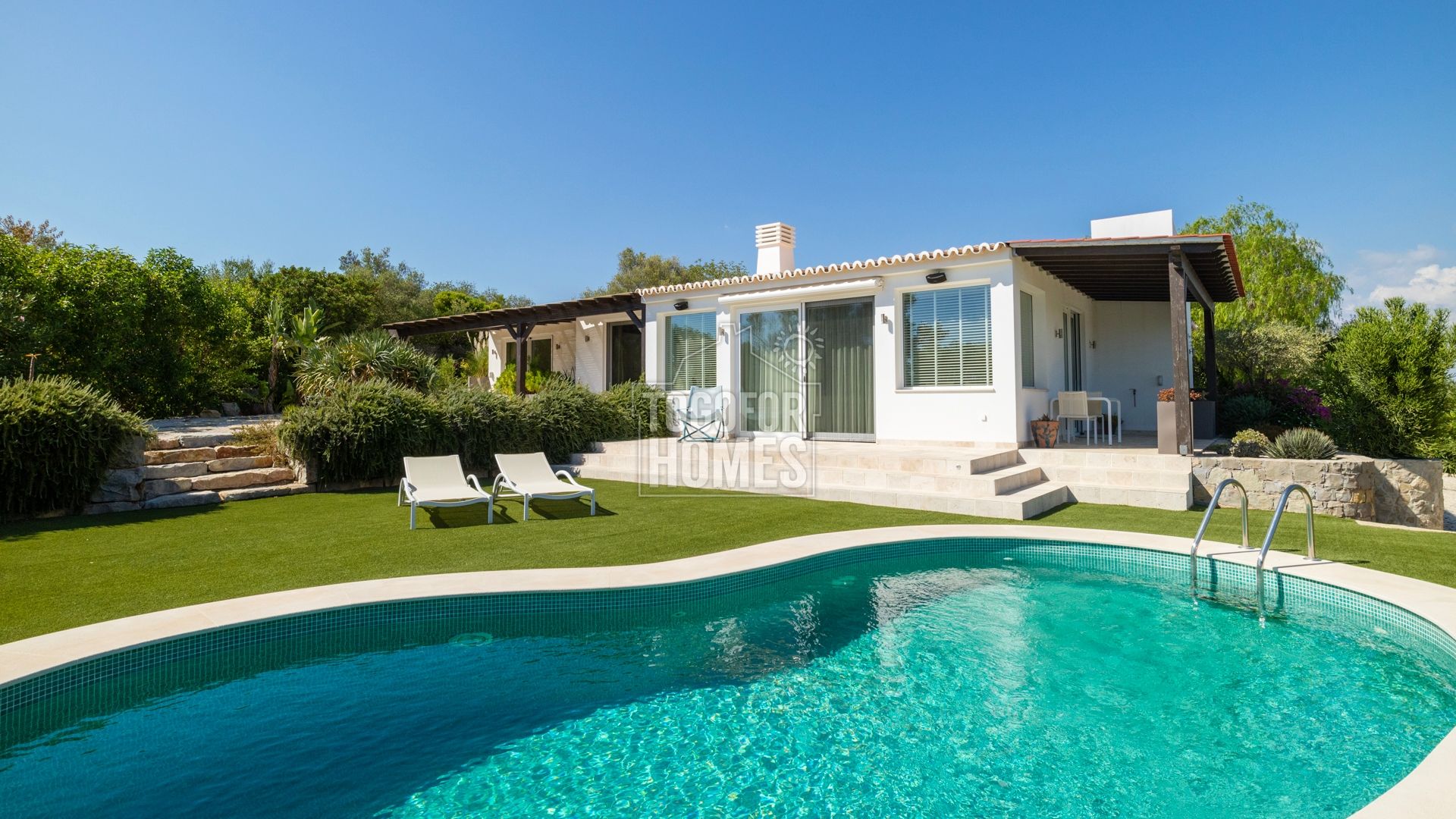 This modern villa in Albufeira has just been completed (September 2018) to high specification construction with top quality fixtures and fittings.
Right in the middle of the silence, this traditional Portuguese house has been completely restored keeping its history.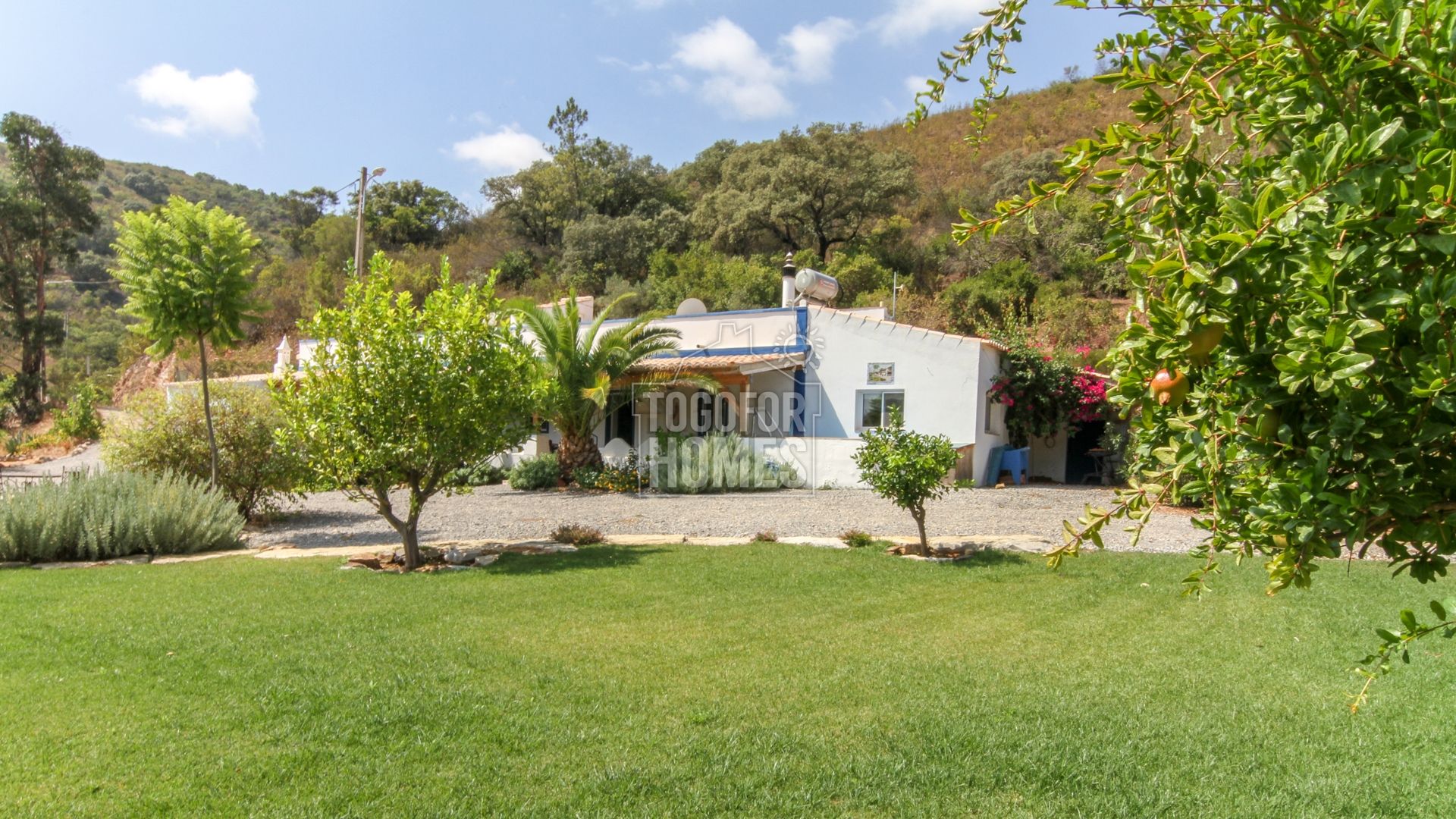 A comfortable modern house with two restored windmills, fantastic views of the sea and the countryside, underfloor heating, two roof terraces, plunge pool, permission to build a swimming pool, large private plot.
Contacts
The following are a handful of links to information and sites that anyone moving to Portugal may find useful.
Martínez-Echevarría & Ferreira
Nobel International School Algarve