Article translated by Google:
Buying a second home is the option of many foreigners, whether to live, to spend holidays, or even to do business with rental or Local Accommodation. And when choosing a destination to make this type of investment, the quality of life, security and peace that a country offers are factors that weigh, in addition to the quality-price ratio of homes and the cost of living.
This is why Portugal is considered the best country to buy second housing among 34 countries of the Organization for Economic Cooperation and Development (OECD). And market officials confirm that more and more foreigners are coming to our country to buy a second home. They are families that arrive, above all, from territories where political, economic and social instability is installed, as is the case of the USA, Brazil, the United Kingdom. Or countries bordering Russia or Ukraine, where armed conflict is now experiencing.
By combing the cost of living, leisure activities and increasing the value of homes to buy and rent from 34 OECD countries, Compare the Market Australia concluded that Portugal is the best country to buy a second home in 2022. Contacted by idealista/news, several real estate experts analyze these results and explain what makes Portugal is in the crosshairs of foreign families to buy a second home and position itself better in the face of other destinations.
"The purchase of a second residence in Portugal is today a great trend for foreign customers," says Patrícia Barão, Head of Residential at JLL, in a statement to idealista/news. And behind this trend are several reasons, which not only relate to the quality of life, gastronomy, beaches and mild climate that Portugal offers. Many foreigners also seek to live in an environment of peace, taking refuge from the political, social and economic instability that has been installed in various countries around the world.
That's what Rafael Ascenso, CEO of Christie's Front Door, confirms:"The residential market has had very strong dynamism and growth in recent years, largely due to foreign investment. We are a stable and non-violent country, where there are no racial tensions or any kind of religious, political or extremism conflict, which are problems that affect most of the countries that have sought us as the Americans, French and Swedish", he stresses.
This premise is reinforced by David Moura-George, director general of Athena Advisers Portugal, explaining that the "growing instability and insecurity that occurs in countries such as the USA or Brazil, usually due to electoral acts or disrespect for freedom, makes Americans and Brazilians of the most active nationalities in buying homes in the Portuguese market. For these people, arriving in Portugal means starting a new life in a climate of peace, security and freedom," he believes.
International conjuncture has an influence on the purchase of second housing in Portugal : how?
The international situation has "definitely influence" the transaction of houses as a second dwelling in our country, admits Miguel Poisson, CEO of Portugal Sotheby's Realty. This means that several foreigners residing in parts of the globe, which have geopolitical tensions, are looking to acquire a second home in Portugal. And these international investors come from countries such as:
USA:"Americans, especially Californians, are looking for a lifestyle verysimilar to what they had in California, close to the sea, the beach and surfing, butin a safe environment. For American investors there is now an increased reason for buying a house in Portugal, which is the current appreciation of the dollar against the euro, because it makes the price of real estate Portuguese even more affordable", also says David Moura-George. Also since Christie's Front Door has been felt a "very sharp demand on the part of Americans who choose to settle in our country in 2021 and 2022";
Brazil:"The new wave of Brazilian investment in national real estate began shortly before the elections and intensified with the second round. They are buyers who, due to the devaluation of the real, were not focused on Portugal and who are now strongly looking at our country", explains the managing director of Athena Advisers Portugal;
Europe: In a context of war between Russia and Ukraine, "Portugal benefits from its geographical position in Europe, being the European country further from the conflict" and also takes advantage of its "stable political and social structure, which is highly valued at European level at the moment", admits the CEO of Portugal Sotheby's Realty. That is why some families living in countries close to the conflict are setting in motion a plan B and are looking at Portugal as their final destination, so as to live far from the centre of instability, such as the Danes and Swedes. In addition, "the current war scenario has brought several Russian clients, who have fled the regime, and also Ukrainians, because they see portugal as a safe haven for their families," says Rafael Ascenso.
United Kingdom: "The British, who have always invested in Portugal, are also increasingly active in the search for home in our country, as a result of Brexit and the government instability that the exit from the European Union has brought, and will continue to bring to the country in the coming years", also acknowledges David Moura-George in statements to idealist / news.
The truth is that the financial crisis– which plagued Europe between 2007 and 2015 – "opened our country's doors to many other nationalities besides the British and Germans, who have always been active as second-home buyers in Portugal, " recalls JLL's Head of Residential. The "strong dynamic" of foreign families in buying a second home is felt since Brazilians, English, French, Germans, Chinese, Turks, Italians or, more recently, Americans, summarizes the responsible.
What other factors make Portugal the best country to buy the second home?
Looking at 34 OECD countries - an organisation that has a total of 38 states - Compare the Market Australia concluded that Portugal is the best country to buy a second home, having achieved a rating of 7.27 points out of 10. Thus, the national territory was ahead of countries such as Hungary, Turkey, the Czech Republic and Estonia, which make up the top 5 of the best destinations to acquire a second dwelling. At the bottom of the list were Israel (2.03 points), Switzerland (2.77) and Norway (2.77), having been ranked as the worst countries to buy a second home.
But what are the other factors that make Portugal an ideal country to buy the second housing, in addition to political and social stability? According to the same study, our country has a "particularly high" score for the proportion of restaurants, with 349 per 100,000 inhabitants. In addition, Portugal also scores well for its average cost of living, being $549.28 per month per person (about 532 euros/month, taking into account the current exchange rate), according to the document published in September this year. With regard to the price of houses to buy, the same study states that values in Portugal have risen 67% in ten years. And rents 21%.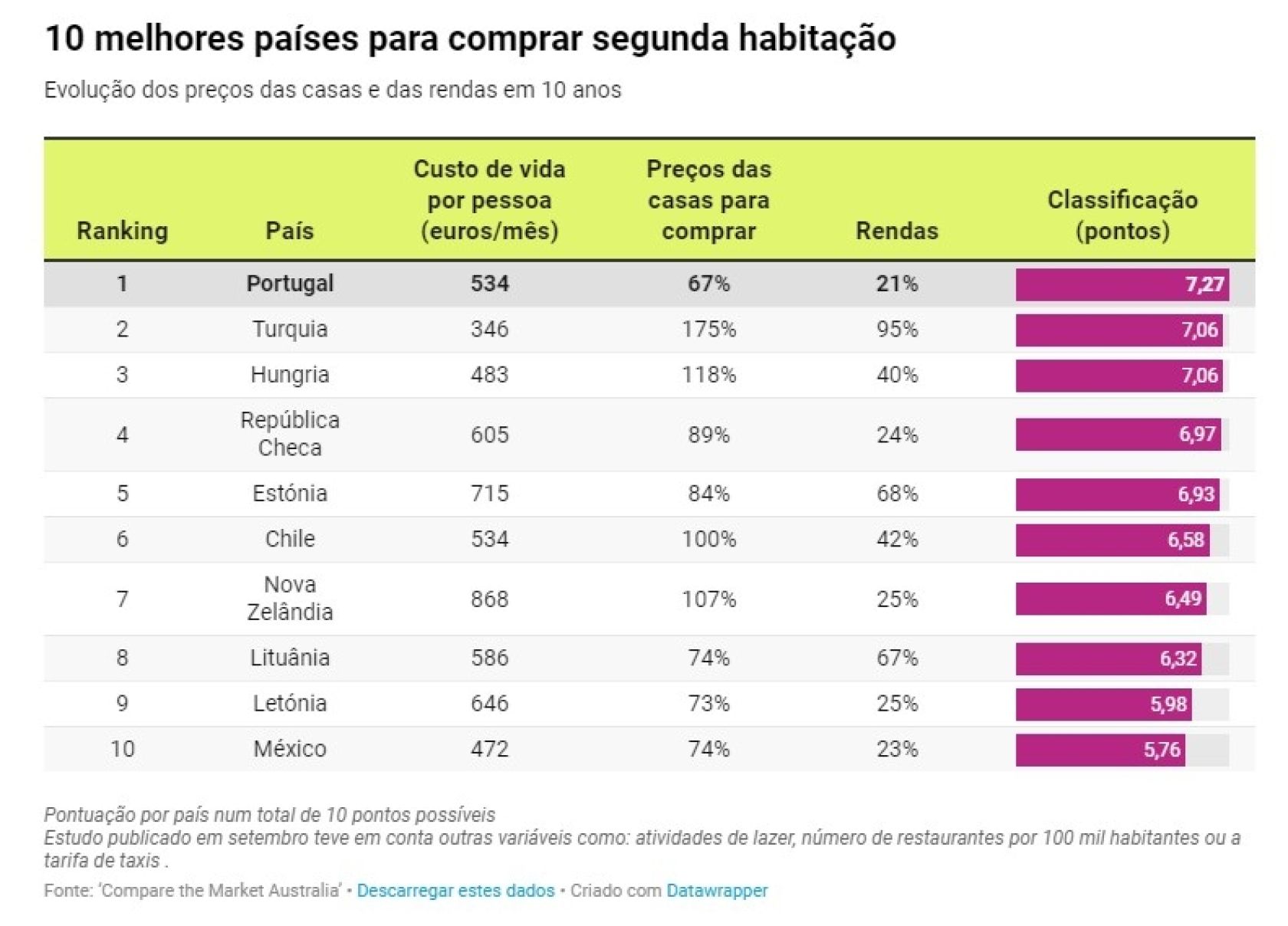 Asked by the idealist /news about the reasons that make our country special tobuy a house, the players of the real estate market point out the following factors make Portugal an ideal country to live in, in addition to visiting:
Safety: Portugal was considered the sixth safest country in the world by the Global Peace Index of the Institute of Economics and Peace. And this is a "determining factor for those looking to spend holidays in Portugal, invest in a second home or decide to live in our country", believes David Moura-George.
Quality of life: good value for money compared to other European countries and the world. "With the implementation of remote work, a citizen with a salary from a richer country, such as Americans, lives incomparably better here than in his country of origin," Rafael Ascenso said. That is why Portugal is in the crosshairs of digital nomads;
Houses to buy with "great" value for money, despite the price hike in recent years: "Compared to large international capitals, Lisbon continues to offer a high quality of architecture and construction at prices per m2 lower than neighboring Madrid or Barcelona", says the CEO of Porta da Frente Christie's;
Tax regimes for foreigners:with the regime of non-habitual residents, visas for digital nomads and the gold visa program - even though the Government is studying the end of residence permits for investment;
"Ideal" climate: Portugal has "a warm temperature for most of the year," says Constanza Maya, Engel & Völkers' director of operations and expansion for Spain, Portugal and Andorra.
Quality and accessibility of the beaches: "Lisbon, for example, is the only European capital that has a beach 15 minutes away from the city center", as David Moura-George points out.
Diversity of natural, historical, architectural and cultural heritage;
Hospitality:"Portugal has a welcoming capacity known all over the world, where we receive with open arms", says Rafael Ascenso, from Christie's Front Door.
Quality gastronomic offer;
Quality education and health.
As there are "more motivations"to acquire a second home in Portugal, the residential market Portuguese has, today, "more buyers and more buying locations", summarizes Patrícia Barão. "We are no longer just a holiday destination: we are also a solid investment destination, a work destination and for large multinational companies, a teaching destination. And this brings people and families, national and international, in the most diverse stages of life, to buy a second home", also stresses the Head of Residential of JLL.
On the other hand, since the beginning of October, Portugal has a new Law of foreigners, which among other measures provides for several points that can continue to animate the real estate market:
facilitate the issuance of visas for CPLP citizens;
create a visa for job search;
end the quota system for immigration;
facilitate the obtaining of residence visas for foreign students attending higher education in Portugal;
a residence permit or temporary stay to digital nomads.
Buy a second house in Portugal: how is the business in Portugal?
It is these various factors that make Portugal the best country to buy a second home. And the attractiveness of our country is such that about 20% of the housing stock Portuguese was acquired for second residence, corresponding to 1.1 million homes, according to the data of the latest Census, cited by Patricia Baron.
The results of the business shared by the players to the idealist/news also mirror this high demand for homes in our country by foreign families. Since JLL, they report that the sales volume of second homes has grown by 20% since the beginning of the pandemic in 2020. And also since Engel & Völkers in Portugal they say that in the first quarter of 2022, about 5.9% of transactions were made by buyers with tax domicile outside Portugal. At Christie's Front Door, deals with more than 35 nationalities were closed, representing 65% of their turnover.
What is also certain is that foreign families are buying more expensive homes than those living in Portugal, according to the latest data from the National Institute of Statistics. While a Portuguese family paid, in median terms, EUR 1,372 per square metre (euro/m2) for a dwelling in the last 12 months ending in June, for buyers with a tax domicile abroad (European Union and other countries) to purchase a dwelling cost 2,234 euros/m2 in the same period, or 63%.
And it is households with tax domicile outside the European Union (EU) that buy homes at higher prices: in the last 12 months ending in the second quarter, the median price of homes sold was 2,592 euros/m2, 12% more than in the same period. Foreign householdsliving in EU countries bought homes at a median price of €1,950/m2 in the last year ending in June, 14% higher than the same period in 2021, still based on INE data.
What are the regions where you buy the most second homes?
According to a study by the idealist, Lisbon, Loulé, Albufeira, Cascais and Porto were the five most sought after municipalities by non-residents to purchase housing in the country in the second quarter of 2022
And of the various regions that make up the national territory, it is in the Algarve where there is greater demand for second homes by foreigners. "The Algarve, which has always been the most popular tourist destination, is the region where there is a greater preponderance of this type of housing, and which represents almost 39% of the existing houses in the region. But also in Alentejo there is an important presence of the second residence (22%), as well as in the Center (24%)", details Patricia Barão, JLL.
Within the Algarve region, families are more likely to buy homes in certain areas depending on their nationality, as engel & Völkers' director of operations and expansion for Spain, Portugal and Andorra points out: "In Portimão, property aquisitions were made mainly by Germans, English and Swedish. In Vilamoura and Quarteira, foreign buyers were mainly French and Swedish. The Carvoeiro and Porches area mainly attracts French and Swiss buyers, while in Tavira foreign investors are mainly Dutch, Swiss, American, Irish and French," says Constanza Maya.
Source: https://www.idealista.pt/news/imobiliario/habitacao/2022/11/14/54883-portugal-e-o-melhor-pais-para-comprar-segunda-habitacao-porque