Togofor Homes real estate agency has been successfully selling properties throughout the entire Algarve since 2005. In this article we would like to give you a little insight into this extremely beautiful landscape. We have a variety of super quality properties in this area, most of them with fantastic views of the coastline and countryside along with some smaller rustic houses nestled in unspoiled and protected land.
The name Monchique was given to the region by the Romans who developed and built the SPA in Caldas de Monchique. Little is known about the history of the area, but it is a fact that several kings and queens of Portugal visited Monchique to use the healing water from the thermal springs.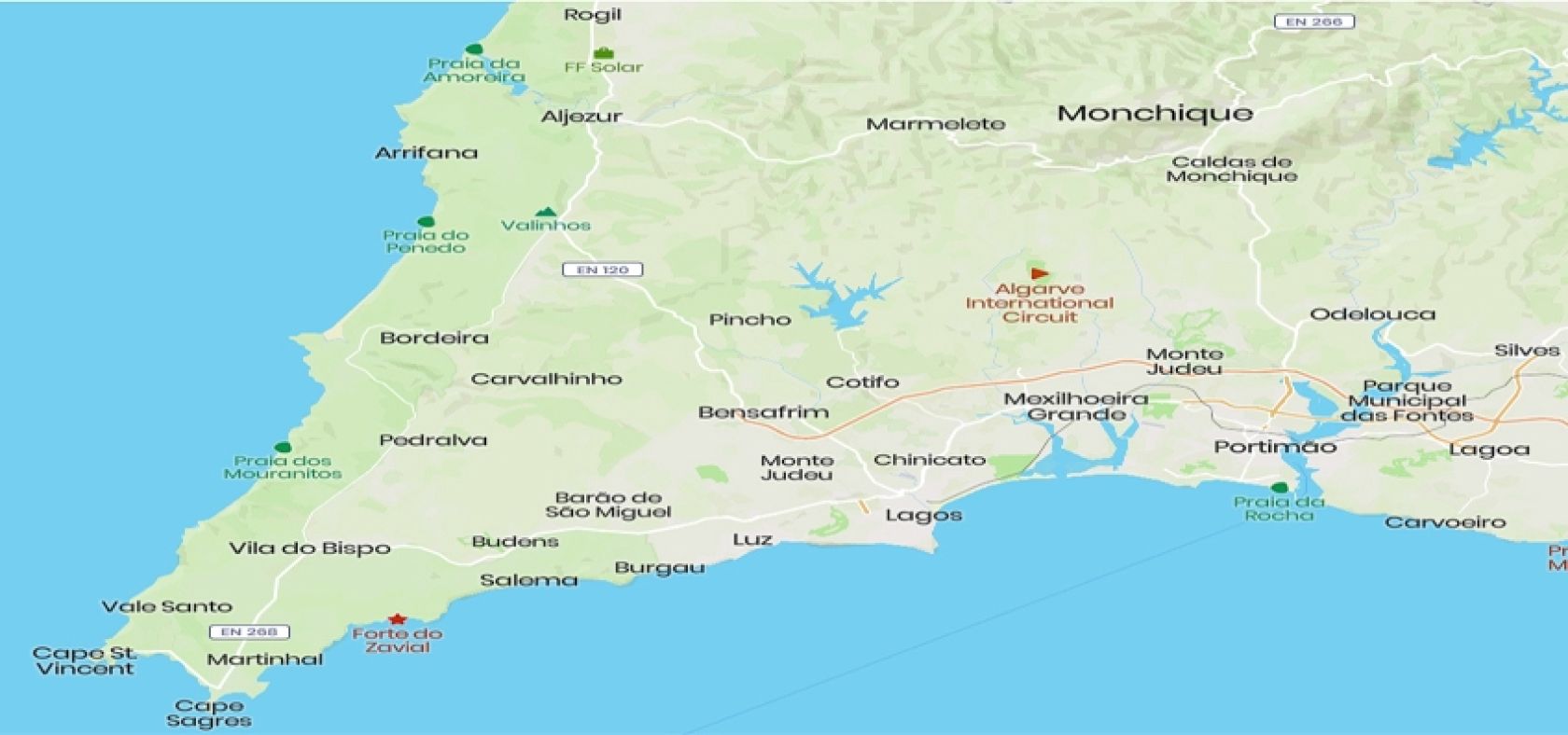 The Monchique area is only about 40 minutes' drive from both the south and west coast of the Algarve.
It is composed of rolling hills and breathtaking landscapes - with forests, fields and farms growing oranges and lemons, orchards, arable land, rocky outcrops and picturesque villages like the town of Monchique itself. It is reminiscent of Tuscan villages in Italy with steep, narrow roads winding up into the mountains – with the bonus that many places and properties in the Serra de Monchique enjoy fantastic coastal views which this photo from Monchique town proves.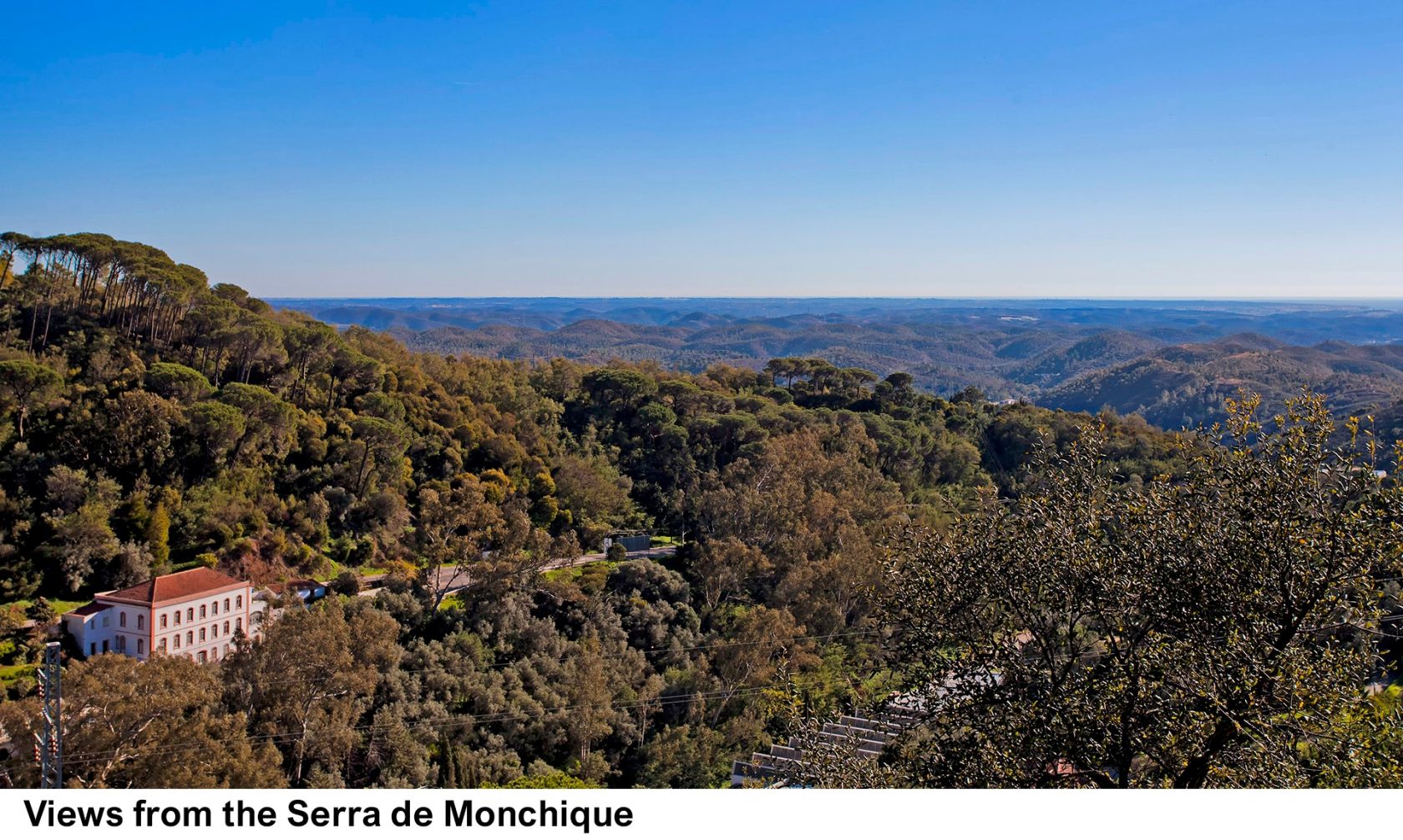 Travelling the road to the highest mountain in Monchique, Foia with 902m there are lots of restaurants with local food and spectacular views to the Algarve coastline, making it a good stopping point for lunch. The Serra de Monchique is popular with hikers, walkers and for picnics and there are group excursions to find, collect and prepare mushrooms, whilst taking a pitstop at numerous fountains and springs to drink the healthy Monchique water. Cyclists and motorbike enthusiasts also enjoy the winding, scenic routes. Ideal for bird watching, relaxation and a hot spot for artists and photographers - it's also the best place to retreat and relax.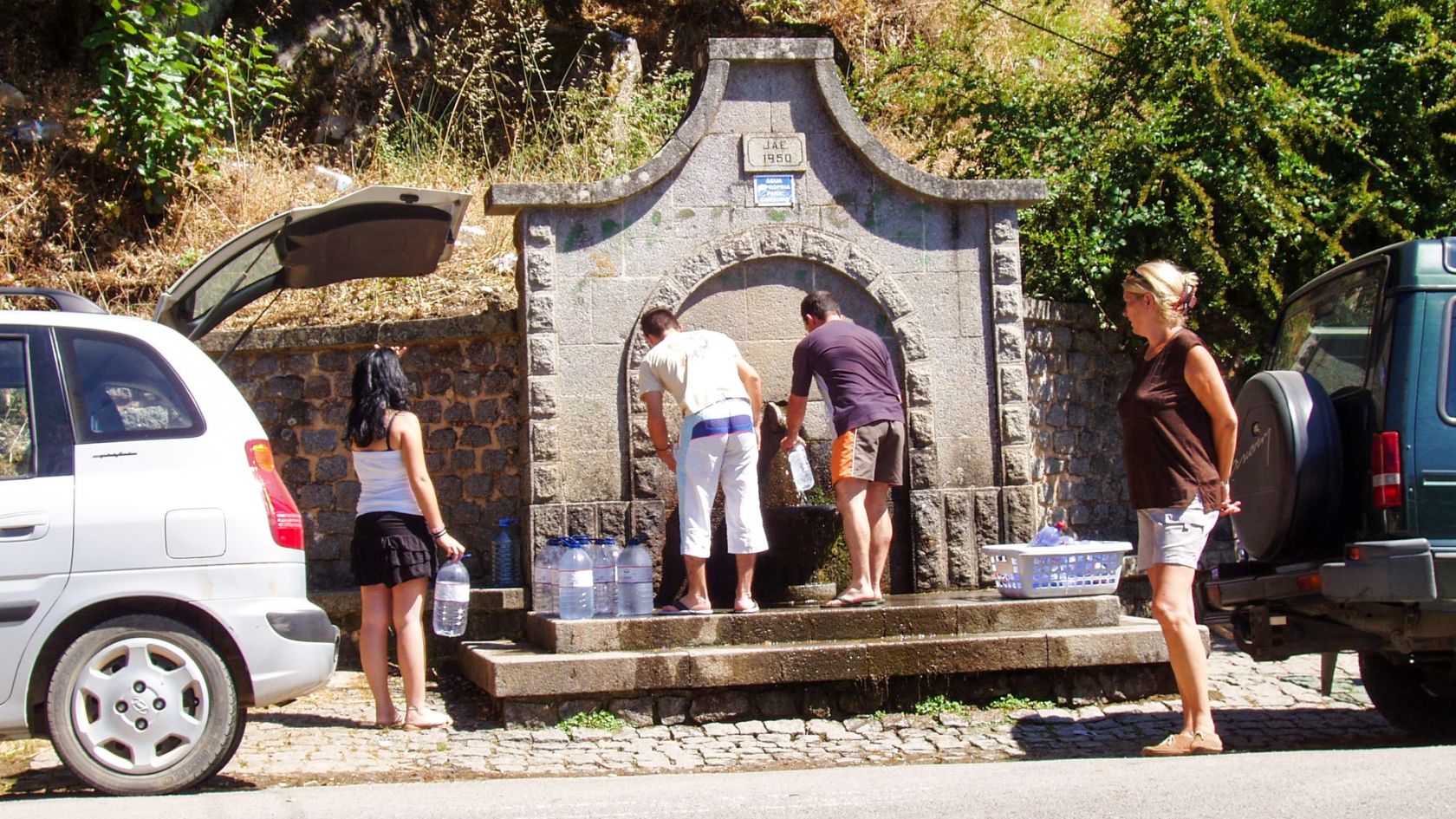 The Serra de Monchique offers fantastic local cuisine, handicrafts, well known Medronho firewater, honey - and SPA hotels and accommodation. There are several annual events held in Monchique town, like the Chouriço Festival (cured, smoked sausage) where you can taste Medronho spirit along with other local delicacies.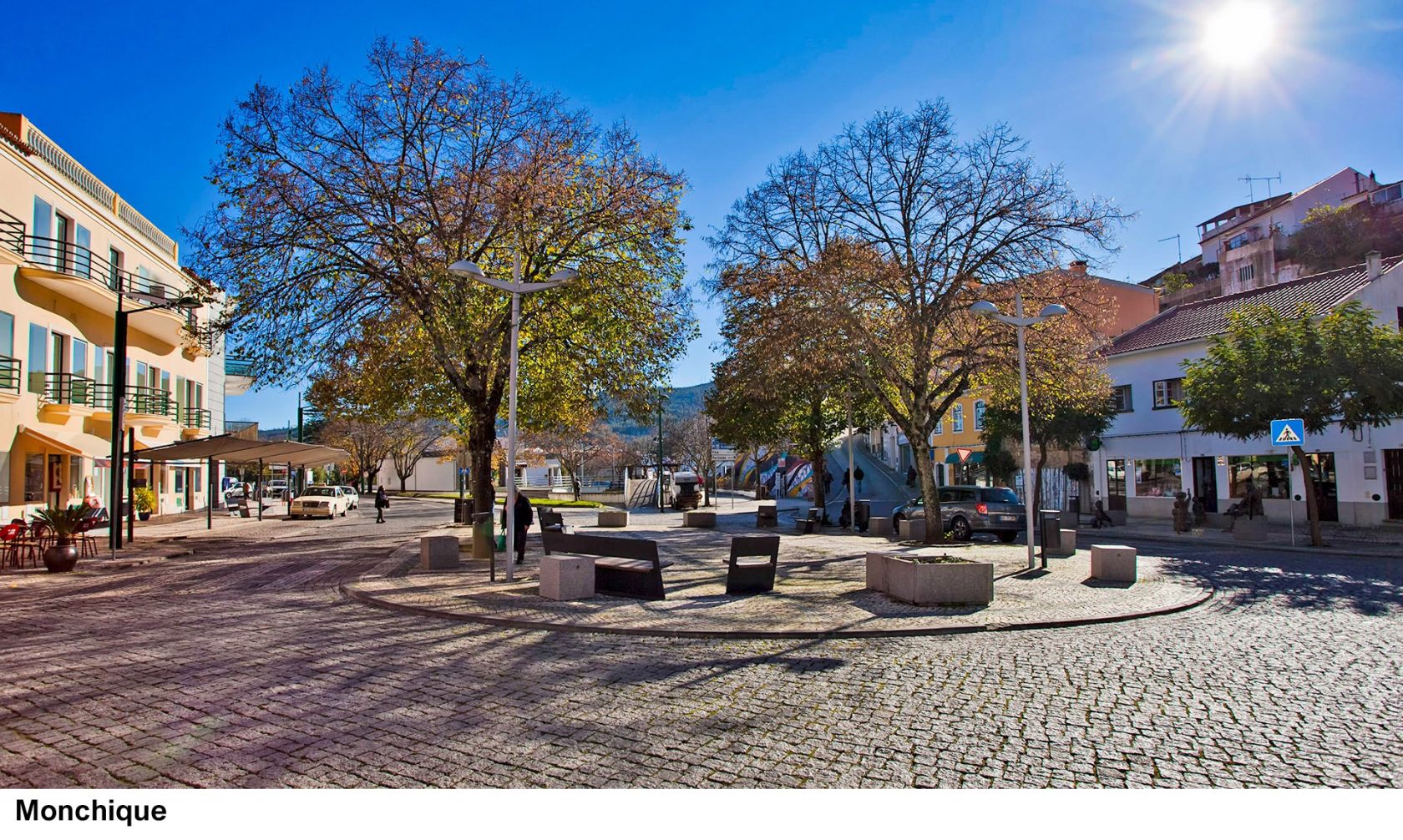 Monchique town is nestled in the heart of the area – enthroned in an elevated position with a castle, narrow steep roads and traditional paved cobblestone streets. Its main square is surrounded by cafés, restaurants, shops, wine and handicraft shops. There is a morning fish and vegetable market, small stores with local produce, a bank, a post office, supermarkets and several restaurants, galleries and tourist shops.
One of the best restaurants A Charrette, is centrally located, on a narrow, steep street. The restaurant offers an excellent service, superb local and international cuisine and a wonderful atmosphere. Normally open for lunch from 13:00 to 15:00 and evenings for dinner. Closed on Wednesday. We recommend booking in advance to avoid disappointment. A Charrette: Rua do Dr. Samora Gil 32, 8550-461 Monchique, Tel. 282 912 142 | GPS. 37.320101, -8.555866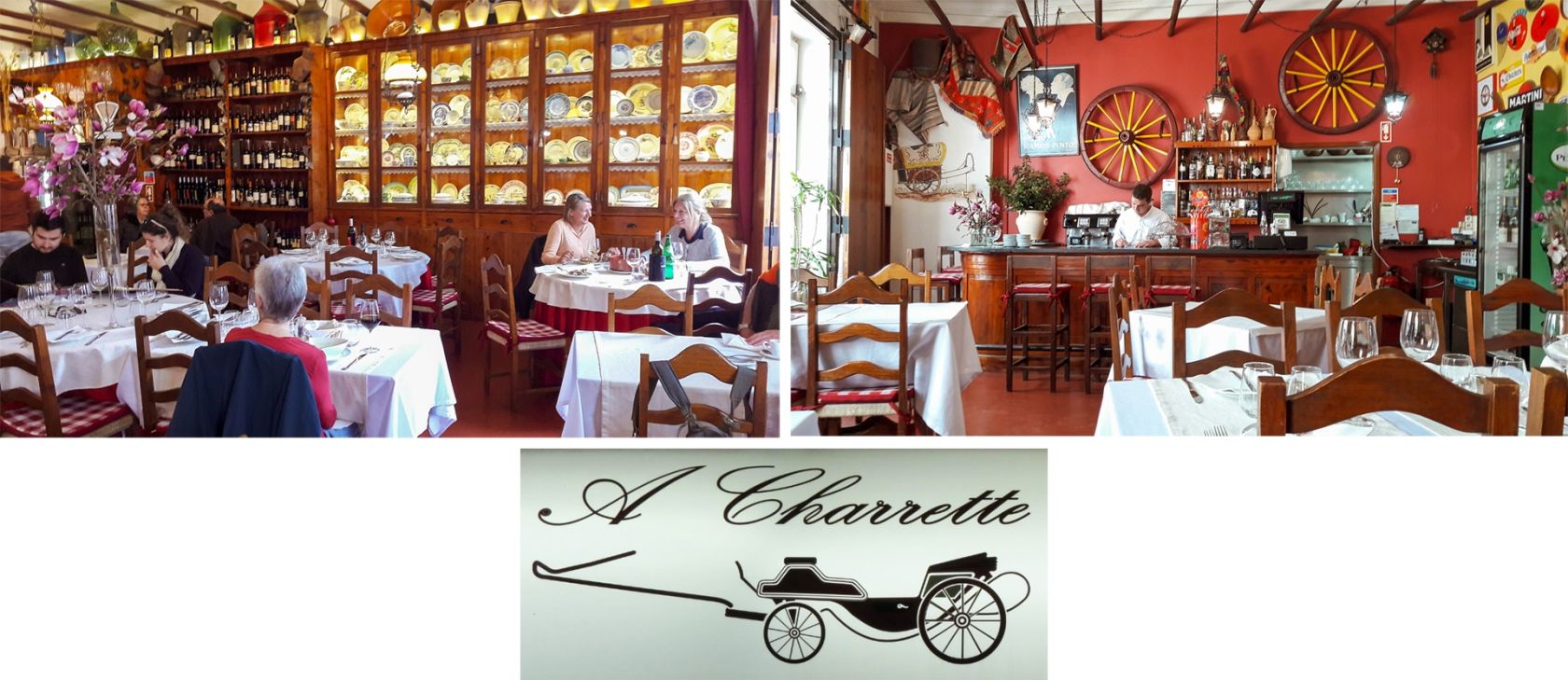 Caldas de Monchique is located approx. 10 minutes' south of Monchique itself. It is a small, picturesque village in a valley with a renowned SPA hotel and clinic offering several therapeutic treatments. The source of the healthy Monchique mineral water, this village also offers some souvenir shops and cafés as well as a nice square with restaurants offering local dishes.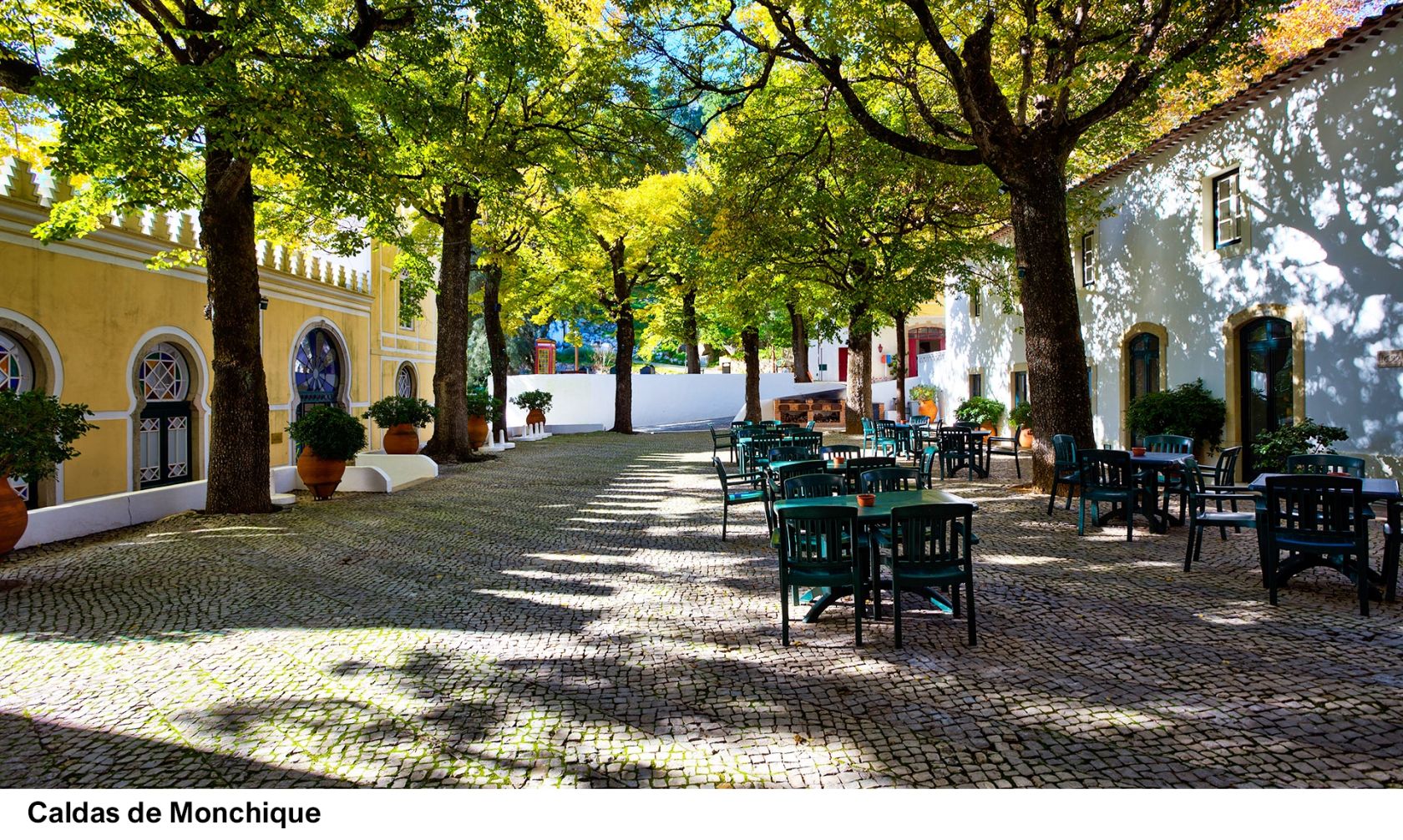 Nearby restaurants like Foz de Banho offer the famous "frango com piri-piri" (grilled chicken with spicy piri-piri sauce) and "porco preto" dishes from the black pig.
If we've piqued your interest with all that this wonderful region has to offer - Togofor-Homes would like to highlight three fantastic properties in the Serra de Monchique.
Ref. No. LG1563
Click the image for more details about the property

• Living area 288m², Construction area 357m²
• Plot 2383m²
• Built 1969, renovated 2015
• Open fireplace
• Garage and parking space
• AL license – for holiday rentals
• Fully furnished
Ref. No. LG321
Click the image for more details about the property

• Living Area: 305m² - plot: 41.920m²
• 2nd Plot 10600m² with small ruin
• 5 bedrooms, 3 bathrooms
• Year of construction 1994
• Views of Foia mountain
• Ideal for smallholding
Ref No. LG1082
Click the image for more details about the property

• 2 houses, studio, laundry, workshop, storage, car port, ruin to renovate
• Plot 5.450m²
• Living area 393m²
• Construction area 460m²
• Built before 1951, renovated 2010 onwards

If you would like to know more, please send us an email.
Susanna Gross
Sales & Marketing Manager, Togofor Homes, Lda